11 June 2015
On 2 November 2012, Danielle Willard was shot and killed by Shaun Cowley, then a detective in West Valley City, Utah. Willard was crouching down in the passenger seat of her own car just before two plainclothes detectives approached and shot her. Police subsequently claimed that she had driven the vehicle toward them, but no evidence supports this claim. A witness saw Danielle Willard and a man drive into the parking lot. The male was driving. Another witness said that they heard gun shots before the car started moving again. This would mean that Willard was shot and her car was already in gear to go backwards. The first shot killed her and she had no control of the car after that. There was no way she could have been trying to run anyone over. Another witness said that, after the shooting, Cowley went to the middle of the parking lot. He laid down. There was no car or person anywhere around him. There has never been any explanation as to why he would do such a thing. There has also been no explanation as to why, when police contacted the man who was running away, they failed to identify him, accepting (or inventing) the story that he just happened to be jogging nearby this police action.
Because of incidents which occurred in the weeks before this police killing of an unarmed woman, efforts are still being made to explain why police targeted Danielle Willard in the first place. She had made 911 calls to get help when her apartment was overrun, then taken over, by people she feared. Her family wants to obtain records of these 911 calls and records and reports of any police action or contact with Willard as a result of those calls.
In June 2014, Cowley was
charged with manslaughter
, but 3rd District Court Judge L.A. Dever dismissed the case against Cowley four months later. By the end of October 2014, after a 10-month investigation, an internal review board found the shooting of 21-year-old Willard to be "unjustified" and West Valley City fired Cowley.
Recently, two and a half years after Shaun Cowley shot and killed unarmed Danielle Willard, Cowley managed to force the hand of the city to be reinstated, collect partial back pay and partial pension, only to resign from the job. Much of what lead to this resolution, according to City Manager Wayne Pyle, was due to a technicality. The Salt Lake Tribune quoted Pyle's statement to the press :
Pyle said he was "very pleased" with Cowley's resignation, adding that it was a "step that needed to occur."

Pyle insisted that the case for firing Cowley was "completely reasonable and justified," but said it was dismissed over a technicality.

"Mr. Cowley is not in any sense of the word either vindicated or a scapegoat," he said. "All of the problems that existed with Mr. Cowley from the very beginning of this investigation still exist today. Drugs and money were missing and continue to be missing."
Cowley's attorney is a former prosecutor and law enforcement instructor. Lindsay Jarvis Harding has used mostly political explanations for why West Valley City settled with her client. According to the same Salt Lake Tribune article :
She asserted that city and police officials may have rushed to settle with Cowley to keep potentially damaging information from being made public during the employment hearing.

"At that hearing, every single one of West Valley City's skeletons would have been uncovered," Jarvis said Monday outside her Sandy office. "Part of what the city had to prove was that the discipline against Shaun was proportionate. That gives us the opportunity to go through the discipline of every single other officer in that department. We are talking about people who are breaking into houses to steal panties. Officers who were having sex on duty. We are talking lieutenants violating their own policies and procedures to break into Shaun's locker and take evidence without Shaun's presence. This is a situation where West Valley City did not want this information out in the public."
This looks to be an admission of her client's guilt.
The most recent twist in this story came via facebook message from Lindsay Jarvis Harding on 10 June 2015. Her facebook page has since been taken down.
So, at this point, after seeing your posts, I've come to the conclusion that you're a hateful bitch. I tried to talk to as a person because my heart ached for you and I thought you were actually a human being just suffering from the loss of your daughter. However, it's honestly no wonder your daughter turned to heroin, had sex with the dealer, had marijuana and heroin in her system at the time of her death (in spite of your ongoing public assertions that she didnt). Have you actually read the police reports? Have you forgotten you told police this was her "last chance" as she was in rehab for the third time? Hello, she was a junkie. She needed a fix. She was desperate. She tried to kill an officer. You're so blinded by your hate, and probably your regret, as you've flown to Utah more times since she died than you did when she was alive, that you refuse to see the truth. Why don't you take your million and shut up? At the end of the day, you got paid by a corrupt city, your daughter's bull shit case was thrown out of court, and Shaun was reinstated with full benefits. Get a hobby – the people you surround yourself on the bullshit sites are criminals. Three of the death threats have come from convicted stalkers on your websites.
She sent this message to Danielle Willard's still grieving mother, Melissa Kennedy. Ms. Kennedy had only one direct message exchange with Jarvis previously. That exchange occurred during the afternoon of 19 November 2014. Jarvis was angry about words which had been posted by others on the facebook page set up demanding Justice for Danielle Willard. Though Ms. Kennedy apologized for and took down the comments which Jarvis found offensive, Jarvis still threatened 'legal action' against anyone posting words she didn't like. As an attorney, it would seem that Ms. Jarvis would know about the first amendment, but she revealed complete ignorance by making the threat, proving herself a bully :
Discussions regarding my husband and unborn child are pretty low and I will not tolerate it. If it continues, I will take legal action.
Ms. Kennedy reports that she was completely taken by surprise and horrified when this most recent message appeared in her inbox.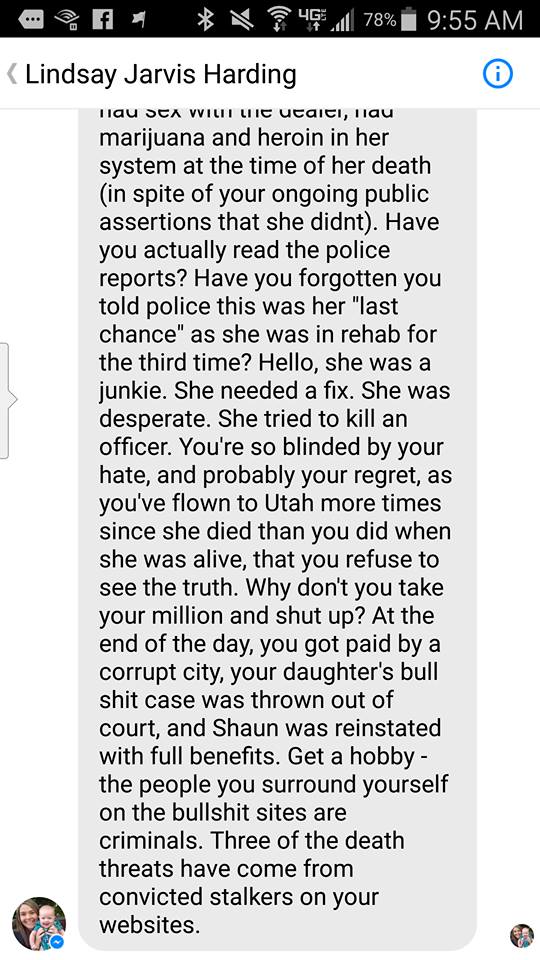 Rules of professional conduct for Utah lawyers is a state mandated standard enforced by the Utah State Bar Office of Professional Conduct . The discipline process is described on their website.
The Utah State Bar provides a reporting tool for beginning the process of reporting attorney misconduct.