23 May 2015
People took to the streets in Oakland tonight to protest Mayor Libby Schaaf's unconstitutional implementation of a curfew designed to stop people from lawfully gathering in protest of ongoing government abuses which have included the killings of unarmed children. After many years and tens of millions of dollars lost to lawsuits and settlements for police misconduct and brutality in Oakland, Schaaf once again, as her predecessor Jean Quan did before her, enlisted the Oakland Police to commit violent crimes against the people. Besides committing multiple counts of kidnapping and illegal detention, police didn't hesitate to use chemical and explosive weapons against the unarmed, non-violent people who were lawfully gathered. A number of people were taken into custody based upon the claim of government right to enforce a curfew against law abiding citizens. As of this reporting, there were no claims by police that any violence or destruction of property was committed by anyone they assaulted and kidnapped.
The Oakland Police incident Commander for tonight's violent assaults on the people of Oakland was Capt. Anthony Toribio. A criminal report was lodged called in to OPD over telephone against Toribio, Schaaf, and all officers involved in tonight's violence. Incident #150523000777 should be filed and available for additional information to be entered by Tuesday. The report was taken by Sgt. James Henry.
Police said that those arrested who were without warrants would be cited and released.
On a side note, a dictionary defines 'arrest' as a legal term, suggesting the word itself insinuates legal authority of a person to take custody of another person by force. They would've been more honest to say 'those who were violently assaulted and kidnapped without cause' would be cited and released.
Protestors could be heard shouting some interesting thoughts between chants of 'who's streets, our streets' and other more colorful reminders.
'you are not free until we are free'
'we don't negotiate with terrorists'
For the second time, an 18 year member of Berkeley Cop Watch, recently trained to observe as a National Lawyers' Guild observer, while wearing a green hat identifying him as a legal observer, was arrested for 'failing to disperse.' This time he faces an additional charge added for 'failing to obey a traffic officer.' Asked if he had any comment, elder Russell Bates said "Yeah, we all got shafted by Schaff."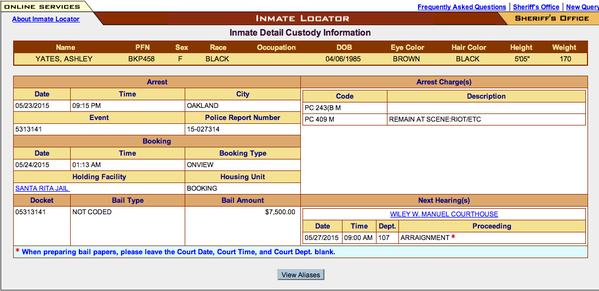 The first booking report to emerge is for Ashley Yates, showing bail set at $7500, and the police excuse for caging her as 'remain at scene:riot/etc' to be arraigned 7 May at Wiley W. Manuel Courthouse. She's being held in the notoriously nasty Santa Rita jail.
By all accounts, police were the only ones rioting at this otherwise noisy yet peaceful gathering.
Anti Police-Terror Project organizer Cat Brooks was one of the many to sacrifice her freedom for the cause of justice. Her parting words for the evening were recorded by Frank Sosa.
"It is our duty to fight for our freedom. It is our duty to win. We must love and protect one another. We have nothing to lose but our chains."